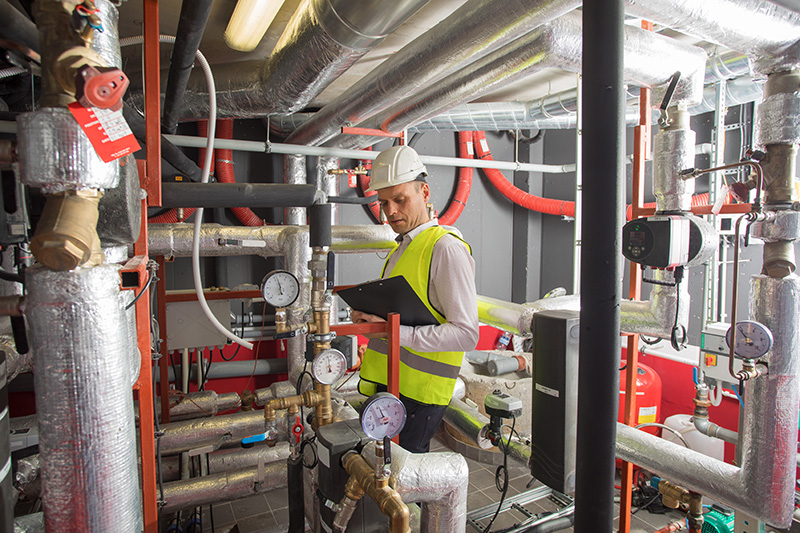 Building Automation Control Software Transforms Operational Challenges into Business Success
by Hector Hernandez
Like business leaders in many industries, CEOs in the Building Automation Controls and HVACR business often have a hard time letting go of trying to doing it all themselves. After all, why wouldn't you? The business is your baby that you've invested years of your life and hard-earned dollars into raising, aiming to grow it large enough to afford much-needed help that'll keep the business running for years–generations, even–to come.

Yet, knowing the ins and outs of an industry or the tricks of the trade is much different than running and managing a successful business. You may have expert-level knowledge of estimating, designing and building complex control systems in different environments that you've cultivated through decades of hard work and study. But how competent are you in other aspects of running a successful and sustainable business?
Managing a supply chain, defining and executing marketing strategies, and overseeing employee training and hiring are just some business operations that can spread a CEO's time and energy too thin. For many do-it-all leaders, the time wasted on the wrong activities means missed opportunities to develop new business, poor investments, and a good chance of burnout.

Of course, it doesn't have to be like this. Business automation control management software can be a transformative force in a contracting company, helping CEOs gain deeper insight into their operations to make smarter decisions for their company faster and empowering their employees to take a greater ownership role in the success of the business.

Automating processes and standardizing workflows saves time, money, and frustration

Most companies struggle with project management to some degree. Complex and long-term projects can be easily derailed if there's no workable system for managing them, especially when they're being managed manually in spreadsheets or simple project management tools. Not only are manually-driven processes time consuming, they're also prone to missing or inaccurate data which can have disastrous effects on your business relationships.
Building Automation Control software streamlines project and services management, while eliminating lost data and improving overall accuracy. Integrating task management and scheduling, asset allocation or tracking, and even invoicing capabilities significantly improves project visibility and control, while boosting efficiency by eliminating many of the data entry errors that occur with manual entry.
It also means the end of paper shuffling and sifting through disparate file folders searching for relevant documentation. Now, each member of your team can log in securely to a central portal to view outstanding and upcoming tasks to eliminate missed or forgotten project activities.

But project and service management aren't the only business activities bolstered by software. Sales operations also benefit from integrated management tools. While prospective customers are the lifeblood of your business, it's easy for contacts and leads to get lost or overlooked when your focus is on other aspects of the business.
Using software, companies can close deals faster and ensure no prospect is left behind by compiling customer profiles and recording each interaction or communication to make sure you're contacting the right person at the right time. Other tools let you easily create and send project estimates or quotes right from your system and track each step of the process all the way through signing the contract.

Data-driven insights for smarter decision making
Making a business decision without data to back it up is unwise and stress-inducing. Any misstep can cost time and money, potentially offsetting months' or years' worth of hard work and planning.
Many business owners recognize that having data stored in multiple disparate systems makes it nearly impossible to gain meaningful insight into the health of their business and make informed decisions about future operations and activities. BAC Business Management Software provides critical data about inventory, vendor relationships, and human resources in an easily digestible format that spans the entire organization for faster, smarter, and better informed decision making.

In particular, BMS gives real-time insight into inventory levels to more accurately project project costs in proposals and coordinate with vendors to make sure the right parts will be available when and where they're needed by importing information from external data sources like Excel or QuickBooks.

BAC business management software even makes employee recruiting, hiring, training easier and more efficient by storing human resources (HR) document templates in a central repository and tracking individuals' information in one place. Digitally managing time sheets replaces tedious data entry and form filing, while also alleviating the headache of searching for the right form and trying to recall where to save it or to whom to send it.  

Making the most of time and effort
The BAC industry is difficult enough to navigate without the inefficiencies and ineffectiveness of daily operations getting in the way. CEOs of BAC businesses who have felt overwhelmed by trying to manage every aspect of the business themselves are finding value in software solutions to gain efficiency and insight across their business to make smarter decisions, simplify complex tasks, and eliminate time- and money-wasting manual processes that distract them from more pressing work.
Learn more about how Cube's comprehensive business management software reduces paperwork and costs while streamlining efficiency and boosting revenue.